Biography
Denise Ivey Telep has walked a life path that has included a wide variety of vocations based on a diverse set of gifts.

Telep's professional journey began in 1975 at Ohio University. As a photography and painting major, her first commercial commission, on her painting professor's referral, was a 25' x 9' coal mining mural in Athens, Ohio. Displaying her entrepreneurial spirit, Denise immediately launched a Site Specific arts company to sustain her creative energies until being offered a position as photographer for a Professional Photography Studio. Within a short time she was promoted to Regional management to train supervisors where Denise wrote a training manual designed for photographers and managers to improve performance and customer relations, along with writing and producing a video training series. Within this time, Denise never stopped painting,
receiving commissions from the corporate and private sectors on a regular basis. The time came to use her leadership qualities and heart to help others, so

Denise left the photography profession to "re-energize" her site specific art company, and "Art Solutions", a custom fine art company was born.

Telep's personal work is primarily representational, yet her approach currently is in the finding of abstract characteristics that representational art can capture depending on viewpoint and perspective. The challenge is to encourage people to notice the patterns and artistic creation that is in everyday environments. Years of honing her skills to recreate in multiple styles, for diverse environments is evident in her work today. "Unlike other artists, I want people to walk up to one of my canvas' and say, 'Wow.Telep did this one?'

Telep urges each one to cast off years of making comparisons and negative self talk that have hindered the expression placed within you. Well meaning family members, teachers and friends, often fail to recognize that your gift is YOUR gift, that the gift of creativity was placed there by GOD, and only needs coaching and to be exercised....not criticism.

Denise Ivey Telep's work can be found in numerous states. Denise resides in a century home nestled in 6 acres of scenic North Royalton, Ohio.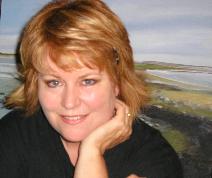 Denise Ivey Telep
Web design JJMM, Copyright © 2008 - 2012 LvL Gallery, All Rights Reserved.
Images are property of LvL Gallery or the artist and may not be reproduced without our written consent