Biography
David Lacey was born in the small Nova Scotia village of Woodville, Kings County situated in the heart of the Annapolis Valley, a major farming area. His family was involved in the logging and saw milling industry and they also owned the local general store and post office. In addition, they owned and operated two large farms in the area. As you can imagine, art was secondary to commerce in this environment. In spite of that, his family encouraged him to draw and paint from an early age. After graduating from the local high school, he spent some time at the Nova Scotia College of Art and Design in Halifax. For the next ten years, he dabbled at painting and photography, but was employed in other fields. Then a watercolour course at the local university piqued his interest and provided him with the technical background that he had been lacking. This period of study gave him the impetus to explore other mediums and the confidence to begin to show publicly his work. A highly successful one-man show at the Kings Courthouse Museum in 1985 encouraged him to seek out several galleries to represent his work. The beautiful new David Lacey Gallery was proudly opened in May, 2000, and has been a rousing success. In addition to The David Lacey Gallery, he is represented by several other commercial galleries and his work is part of private and corporate collections all over the world. Influences in Lacey's painting have come primarily from the French Impressionists, the American Luminists, and the Group of Seven. His painting has evolved over the years and he now works in watercolour, acrylic, pastel, and oil. His style is best described as a painterly impressionism. He believes that no painting can be deemed successful without a strong composition and he feels that understanding the play of light within a work is essential. At this point, it is his belief that being primarily self-taught has been positive in that it has allowed his style to become readily identifiable in its own right. Nova Scotia is rich in subject matter for the landscape and seascape painter and the images that appear on Lacey's canvas reflect this. His favourite subjects include the sturdy homes that dot the countryside and the long lanes and winding roads that weave through the Annapolis Valley and along the Bay of Fundy. The Cape-style fishing craft that abound in Nova Scotia and the ebb and the flow of the tides along the coast are also found in his work.
David truly enjoys painting and has met with acceptance and great success in the field. Consequently, he paints consistently and is considered to be quite prolific. He usually paints in a studio setting and uses his photographs as a reference tool. The photos serve only as a recollection of a scene and he does not strive for photo-realism, but rather to capture a fleeting composition or light. He also enjoys painting on location, "en plein air".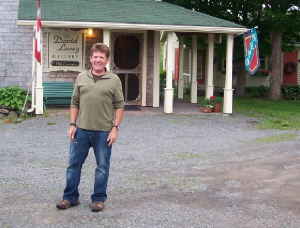 David Lacey
Web design JJMM, Copyright © 2008 - 2012 LvL Gallery, All Rights Reserved.
Images are property of LvL Gallery or the artist and may not be reproduced without our written consent